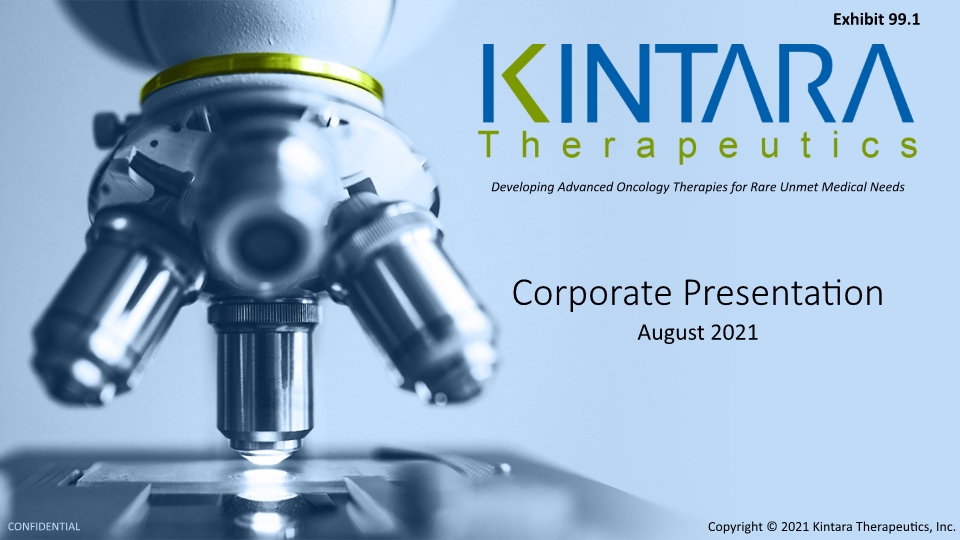 Developing Advanced Oncology Therapies for Rare Unmet Medical Needs Copyright © 2021 Kintara Therapeutics, Inc. CONFIDENTIAL Corporate Presentation August 2021 Exhibit 99.1
Forward Looking Statements 2 This presentation contains forward-looking statements based upon Kintara's current expectations. This communication contains "forward-looking statements" within the meaning of the Private Securities Litigation Reform Act of 1995. Forward-looking statements are identified by terminology such as "may," "should," "expects," "plans," "anticipates," "could," "intends," "target," "projects," "contemplates," "believes," "estimates," "predicts," "potential" or "continue" or the negative of these terms or other similar words. These statements are only predictions. Kintara has based these forward-looking statements largely on its then-current expectations and projections about future events, as well as the beliefs and assumptions of management. Forward-looking statements are subject to a number of risks and uncertainties, many of which involve factors or circumstances that are beyond Kintara's control, and actual results could differ materially from those stated or implied in forward-looking statements due to a number of factors, including but not limited to: (i) risks associated with the impact of the COVID-19 pandemic; (ii) risks and uncertainties relating to Kintara's ability to develop, market and sell products based on its technology; the expected benefits and efficacy of Kintara's products and technology; the availability of substantial additional funding for Kintara to continue its operations and to conduct research and development, clinical studies and future product commercialization; and, Kintara's business, research, product development, regulatory approval, marketing and distribution plans and strategies, and (iii) those risks detailed in Kintara's most recent Annual Report on Form 10-K and subsequent reports filed with the SEC, as well as other documents that may be filed by Kintara from time to time with the SEC. Accordingly, you should not rely upon forward-looking statements as predictions of future events. Kintara cannot assure you that the events and circumstances reflected in the forward-looking statements will be achieved or occur, and actual results could differ materially from those projected in the forward-looking statements. The forward-looking statements made in this communication relate only to events as of the date on which the statements are made. Except as required by applicable law or regulation, Kintara undertakes no obligation to update any forward-looking statement to reflect events or circumstances after the date on which the statement is made or to reflect the occurrence of unanticipated events. Investors should not assume that any lack of update to a previously issued "forward-looking statement" constitutes a reaffirmation of that statement.
Late-stage Oncology Company with Two De-Risked Product Candidates 3 VAL-083: A first-in-class small molecule with unique MOA (MW = 147) Pivotal, pre-eminent GBM AGILE registrational study for three GBM patient subtypes initiated January 2021 ~$1B1 market opportunity in lead program: Glioblastoma Multiforme (GBM) Phase 2 top line results for newly diagnosed adjuvant GBM: Q3 2021 Major value inflection point projected (graduation to Stage 2 of GBM AGILE – can enable NDA) Q3 2022 Multiple shots on goal via parallel enrollment of three GBM patient subtypes Over 1,200 patient safety database via ~40 prior studies REM-001: 2nd generation photodynamic therapy platform 15-patient confirmatory study planned for Q2 2022, prior to Phase 3 trial ~$500M2 market in lead program: Cutaneous Metastatic Breast Cancer Extensive Phase 2/Phase 3 efficacy data (80% complete responses across four trials) Over 1,100 patient safety database Multiple follow-on indications with existing orphan designations and/or approved INDs Compelling investment opportunity with significant near-term value generating milestones 1GlobalData November 2018 2Charles River Associates April 2018
Kintara Product Pipeline – Multiple Shots on Goal 4 VAL-083: Glioblastoma multiforme Registrational Study (GCAR/AGILE) in newly-diagnosed and recurrent patients REM-001: Cutaneous Metastatic Breast Cancer Fifteen patient confirmatory study leading into Pivotal Study REM-001: Recurrent Basal Cell Carcinoma Nevus Syndrome VAL-083: Ovarian Cancer LEAD INDICATIONS FOLLOW-ON INDICATIONS ODD FTD ODD ODD ODD = Orphan Drug Designation FTD = Fast Track Designation PRECLINICAL IND PHASE 1 PHASE 2 PHASE 3 Next Milestones Q3 2022: Projected graduation from Stage 1 of GBM AGILE to Stage 2 Q2 2022: Projected first patient enrolled in 15-patient study
VAL-083: GBM Opportunity 5 >$800M market growing to $1.4B in 20271 ~30,000 newly-diagnosed patients in US/EU ~14,000 recurrent patients in US/EU GBM AGILE Phase 2/Phase 3 international registration study: FDA approved & strongly endorsed adaptive design Involvement from numerous KOLs Partnership with Global Coalition for Adaptive Research (GCAR) Kintara is the only company currently approved, and enrolling in all three GBM AGILE patient subtypes: Newly-Diagnosed Unmethylated (>60% of GBM patients) Newly-Diagnosed Methylated (<40% of GBM patients) Recurrent 1GlobalData November 2018 Survival rates for patients with GBM have shown no notable improvement in population statistics in the last three decades. Tamimi AF, Juweid M. Epidemiology and Outcome of Glioblastoma. In: De Vleeschouwer S, editor. Glioblastoma [Internet]. Brisbane (AU): Codon Publications; 2017 Sep 27. Chapter 8. PMID: 29251870. Lyne SB, Yamini B. An Alternative Pipeline for Glioblastoma Therapeutics: A Systematic Review of Drug Repurposing in Glioblastoma. Cancers (Basel). 2021;13(8):1953. Published 2021 Apr 18. doi:10.3390/cancers13081953
VAL-083 Mechanism of Action 6 VAL-083's unique mechanism of action creates inter-strand DNA cross-links at the N7 position of guanine, resulting in double-strand DNA breaks and cancer cell death via apoptosis Mechanism of VAL-083 via crosslinks at N7 of guanine Mechanism of temozolomide (TMZ) via alkylation at O6 of guanine 2 guanine bases on DNA VAL-083 VAL-083 – interstrand crosslink (ICL) temozolomide converts to active state (MTIC) at physiological pH guanine base on DNA alkylation of O6 guanine VAL-083's unique cytotoxic mechanism circumvents MGMT-mediated chemoresistance and differentiates it from other therapies used in the treatment of GBM, including TMZ.
VAL-083 vs Standard-of-Care TMZ 7
VAL-083: Clinical Data - Ongoing Phase 2 Studies 8 Open label Phase 2 studies in unmethylated patients; treatment dose for GCAR GBM AGILE Study; *data from AACR Posters April 2021 **topline results June 2021 1Hegi et al N Eng J Med 352; 997-1003 (2005) 2Tanguturi et al. NeuroOncol. 19(7): 908-917 (2017) 3Wick et al N.Eng.J.Med . 377:1954-1963 (2017)
VAL-083: FDA Approved Expedited Development and Registration Pathway 9 1Comparable to MDACC Phase 2 trial – adjuvant cohort 2Comparable to MDACC Phase 2 Trial – recurrent cohort Collaboration with the Global Coalition for Adaptive Research (GCAR) Founded in 2017 by world's foremost clinical, translational, basic science investigators, and health authorities Sponsor of innovative and complex platform trials utilizing adaptive design Prior success via I-SPY with similar design for breast cancer GBM Adaptive Global Innovative Learning Environment (AGILE) Study International effort in newly-diagnosed and recurrent glioblastoma Master Protocol with three experimental arms versus a common control Primary endpoint: overall survival "Seamless" transition to Stage 2, with Stage 1 patients included in final analysis 150 to 200 Patients Maximum Stratified by Three Subtypes Newly-diagnosed methylated Newly-diagnosed unmethylated1 Recurrent2
GCAR/GBM AGILE Advantages 10 Utilized non-profit funding to design and initiate GBM trial (1st patient enrolled: June 2019) Principals successful in platform and adaptive design paradigm per highly successful breast cancer trial (I-Spy): 10-year trial, 16 compounds tested, three received FDA accelerated approval Regulatory buy-in at highest level with strong FDA support Rapid study startup and patient enrollment Turn-key solution 39 sites currently enrolling patients (Kintara already enrolling in 26 sites since joining in January 2021) 2021 expansion to all 39 sites, including Canada and the EU Shared control group: Contains costs and accelerates speed of study Has been enrolling for over two years Provides significant time and cost savings vs. multiple trials Avoids company scale up of fixed expenses for trial execution
GCAR: GBM AGILE Major Clinical Sites/Investigators 11 Principal Investigators of Kintara's arm of the GBM AGILE study: Dr. James Perry Professor of Neurology University of Toronto Sunnybrook Research Institute Dr. John de Groot Professor Department of Neuro-Oncology MD Anderson Cancer Center With over 35 sites already enrolling, GBM AGILE includes Key Opinion Leaders and leading clinical sites: MD Anderson Cancer Center - Houston Memorial Sloan Kettering Center - New York Mayo Clinic Cancer Center - Jacksonville Henry Ford Health System - Detroit Mount Sinai - New York Dana Farber Cancer Institute - Boston Cleveland Clinic - Cleveland Duke University Medical Center - Durham "GBM AGILE is an innovative clinical trial approach that enables us to simultaneously and dynamically study the effects of multiple new drug candidates. With the inclusion of paxalisib and VAL-083 for newly-diagnosed unmethylated and recurrent GBM patients, as well as VAL-083 for the additional methylated GBM patient group, we are excited to offer all GBM patients access to these latest therapies." - Dr. James Perry
VAL-083: FDA Approved Expedited Development and Registration Pathway 12 Current Clinical Status January 2021: Kintara jumps on "a fast-moving train" with GBM AGILE GBM AGILE/Kintara initiate patient randomization joining Bayer's regorafenib, and Kazia's paxalisib as the three compounds in this trial Kintara's VAL-083 is the only drug currently participating in all three patient subtypes: Newly-diagnosed MGMT-unmethylated (>60% of GBM patients) Newly-diagnosed methylated (<40% of GBM patients) — Kintara / VAL-083 only Recurrent Projected graduation to Stage 2 in Q3 2022
REM-001: 2nd Generation Light Activated Cancer Therapy CMBC Overview 13 1Source (a): Saika et al, 2009; Kamaraju et al, 2016; Vano-Galvan et al, 2009; GlobalData Report on Metastatic Breast Cancer; Schoenlaub et al, 2001 2Charles River Report April 2018 Cutaneous Metastatic Breast Cancer is a major unmet medical need Up to 40,000 patients in the U.S.1, representing $500M market opportunity2 Clinical aspects: Highly morbid form of breast cancer Bleeding, infectious and malodorous lesions on chest wall, neck and back Narcotics for pain control Limited current therapies Chemotherapy: generally non-responsive Radiation: dose limiting toxicities, lesions are often refractory to radiation
Photodynamic Therapy Mechanisms of Action 14 PDT induces elimination of diseased cells by immune response, apoptosis, antiangiogenesis and necrosis
REM-001: High Response Rates in CMBC 15 Second Generation Photodynamic Therapy Light activated cancer therapy Extensive data from prior Phase 2/Phase 3 clinical trials 149 patients treated in 4 trials 80% complete response rate in 674 evaluable lesions Localized Outpatient Treatment IV drug infusion accumulates in tumors Activated by simple red light Safety database ~1,100 patients Previous trial experience used to optimize current trial design
REM-001: CMBC Development Plan 16 Development plan optimized for success while minimizing cost Phase 3 ready Initial open-label, 15-patient study to confirm lower dose and optimize trial design Leverages prior data indicating lower dose can improve outcome Faster healing Less photosensitivity De-risks full Phase 3 study Anticipated study start in Q2 2022
Indication Expansion Opportunities 17 VAL-083 Platinum resistant Ovarian Cancer1 Non-Small Cell Lung Cancer1 Other Solid Tumors, including pediatric indications REM-001 Other Cutaneous Metastatic Cancers Recurrent Basal Cell Carcinoma Nevus Syndrome2 Locally Advanced Basal Cell Carcinoma (laBCC) Peripheral Lung Cancer Hemodialysis Arteriovenous (AV) Access 2Demonstrated positive results in prior sponsor's Phase 2 study 1Prior Phase 1 and Phase 2 studies completed by NCI
Barriers to Competition 18 GBM Orphan drug designation in US and EU Seven years market exclusivity after approval in US 10 years market exclusivity after approval in Europe Fourteen patent families Claims to methods of use, dosing and administration, combinations, manufacturing, analytical methods, and methods of synthesis Fourteen US granted patents and forty-five patents granted worldwide Expiry dates range from 2031 to 2038 Ovarian Orphan Drug Designation in US New Chemical Entity Five years data exclusivity after approval in US 8+2+1 Regime in Europe Combination Product Regulatory Pathway REM-001 and Laser Device Follow-on Indication Orphan Drug Designations in US Basal cell carcinoma nevus syndrome (BCCNS) Hemodialysis access grafts VAL-083 REM-001
Near-Term Milestones/Value Inflection Events 19 Q1 2021 Commence Enrollment - GCAR GBM AGILE Registration Study Q2 2021 AACR Posters – Data updates for Phase 2 GBM Studies Top Line Results - Phase 2 Recurrent GBM Study Q3 2021 Top Line Results - Phase 2 Newly Diagnosed Adjuvant GBM Study Q2 2022 Forecasted First Patient Enrolled – CMBC 15-Patient Lead-In Study Q3 2022: GCAR GBM AGILE Registration Study Forecasted graduation from Stage 1 (safety and efficacy; 100-150 patients) to Stage 2 (confirmatory; 50 additional patients)
Seasoned Biopharma Leadership Team 20
Scientific Advisory Boards 21 GBM Scientific Advisory Board CMBC Scientific Advisory Board Dr. John de Groot Groot (PI for Kintara/VAL-083 in GBM AGILE) MD Anderson Cancer Center Professor in the Department of Neuro-Oncology Dr. Timothy Cloughesy (Overall PI for GBM AGILE) David Geffen School of Medicine (UCLA) Professor of Neurology UCLA Brain Research Institute and Jonsson Comprehensive Cancer Center Member Dr. Napoleone Ferrara University of California, San Diego World renowned scientist and Distinguished Professor of Pathology and a Distinguished Adjunct Professor of Ophthalmology and Pharmacology Dr. David Reardon Dana-Farber Cancer Institute Clinical Director of the Center for Neuro-Oncology Harvard Medical School Professor of Medicine Dr. Nicholas Butowski UCSF Medical Center Neuro-oncologist Brain Tumor Center Director of Translational Research in Neuro-Oncology and Researcher Mario Lacouture, MD Memorial Sloan Kettering Cancer Center Director, Oncodermatology Program Leading expert in treatment of cutaneous metastases in cancer Thomas S. Mang, PhD University at Buffalo (UB), School of Dental Medicine* Director of Research for Oral and Maxillofacial Surgery Department Recognized PDT expert and prior clinical work with REM-001 Therapy Stephen B. Solomon, MD Memorial Sloan Kettering Hospital Chairman, Interventional Radiology and Co-Director, Image-Guided Intervention Specializes in image-guided interventions in cancer Leonard A. Farber, MD Weill Cornell Hospital* Radiation Oncologist Specialties include adult radiation oncology for breast cancer patients Experience in treating CMBC and recurrent basal cell carcinoma *Prior affiliations
Investment Highlights 22 Late-stage oncology company with two highly de-risked assets for underserved indications Initiated GBM AGILE registrational trial: January 2021 with VAL-083 as the only trial arm enrolling all three GBM AGILE patient subtypes Accelerated clinical pathway with strong regulatory support and 39 sites currently enrolling patients >$1B market opportunity1 REM-001 — Light activated cancer therapy diversifies late-stage oncology pipeline 80% complete responses across four clinical trials to date in CMBC 15-Patient confirmatory study initiation planned for Q2 2022 $500M market opportunity2 Significant upcoming milestones/value inflection events Q3 2021: VAL-083 Phase 2 top line results in Phase 2 Newly Diagnosed Adjuvant GBM Study Q2 2022: Initiate 15-patient CMBC confirmatory trial Q3 2022: GCAR GBM AGILE Registration Study graduation from Stage 1 to Stage 2 1GlobalData November 2018 2Charles River Associates April 2018